DePuy Orthopaedics, a unit of Johnson & Johnson, issued a recall of hip replacement systems on August 26, 2010. The recall includes two specific products:
ASR™ Hip Resurfacing System
ASR™ XL Acetabular System
Available information and data show that the DePuy hip system recipients are in need of a second hip replacement procedure at higher-than-expected rates. Typically, replacement procedures are only required when an artificial joint causes pain or difficulty in walking. According to DePuy, there are approximately 93,000 of these devices implanted worldwide since they were introduced to the market in July of 2003. If you or a loved one was the receipient of a DePuy hip that has been recalled, contact us today.
Hip Recall- Shedding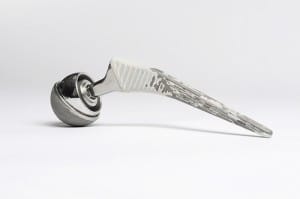 DePuy Orthopaedics is a company owned by Johnson & Johnson, the world's largest health care product manufacturer. The units being recalled are the ASR Acetabular System and the ASR Hip Resurfacing System. Due to faulty design of metal-on-metal moving parts, both of these units have the capability to shed toxic metal fragments into the recipient's body. This toxic shedding process can produce serious side effects, including:
Pain and swelling
ALVAL (asceptic lymphocyte-dominated vasculitis associated lesion) and pseudotumors
Dislocation of the joint
Difficulty walking
Bone fractures around the implant
Hip Recall Risks
Due to these risks, many patients with an implanted ASR device are in need of "revision" surgery, a service Johnson & Johnson offers. A revision surgery is a second surgery that is required to remove and replace the faulty and dangerous ASR hip implant.
Both the Acetabular System and the Hip Resurfacing System first became available in July 2003. If you had hip replacement surgery prior to July 2003, then your replacement hip is not subject to this recall. If you've had hip replacement surgery after July 2003, there is a possibility that you received a recalled ASR device.
The only way to determine with certainty whether your replacement hip is one being recalled is to speak with your orthopedic surgeon (or your family doctor, if he or she has your full medical history). You may or may not need additional surgery even if you received an ASR device. It is extremely important that you consult your doctor even if you are not experiencing any pain, swelling, or difficulty walking. These symptoms could develop over time if you have one of the recalled hip implants.
If you had hip implant surgery after July 2003, contact us today for your free legal consultation. Some frequently asked questions and answers are below for your benefit. However, to fully know your legal rights, contact us today.
How do I know if I am subject to the DePuy Recall?

The two hip implant systems that have been recalled became available in July 2003. If you had hip surgery before July 2003, your hip replacement is not subject to the DePuy hip system recall. If you had hip replacement surgery after July 2003, you should contact your surgeon or the hospital where the surgery was done and ask if you received the DePuy ASR hip. Unfortunately, DePuy does not keep a list of patients who received its hip products.
Why was the DePuy hip recall implemented?

The DePuy hip recall was issued because information and data it received showed that five years after the hip was implanted, 12% of patients who had received the ASR Resurfacing System needed to have it replaced. Similarly, 13% of patients who received the ASR total hip replacement needed to have it replaced after five years. This replacement surgery is called "revision surgery."
What types of problems can occur in the first five years?
The patients who needed revision surgery reported a myriad of symptoms. Symptoms include pain, swelling, and problems walking. These symptoms are normal immediately following hip replacement surgery, but if they persist, it may mean that the hip did not stay attached to the bone in the correct position, that the implant has broken, or that the parts of the implant became dislocated. If you are having problems with your hip replacement, there are tests your surgeon can run in order to determine the cause of the symptoms.
What should I do if I have a DePuy ASR Hip?
If you received the ASR XL Acetabular System or the DePuy ASR Hip Resurfacing System and are having problems with your implant, you should schedule an appointment with your doctor for an evaluation. Your doctor may order blood tests or imaging scans to see how your hip is functioning. Your surgeon can then determine the most effective treatment plan for you. By way of example, if you are experiencing pain or difficulty walking, your surgeon may want to take X-rays of your hip to see how the ASR Hip System is positioned, if there has been any damage to your bone, and if it is still attached to your bone. A blood test can reveal the level of microscopic metal particles around your hip. If this level is high, then your surgeon may order a second blood test three months later. If the second blood test still indicates a high level of metal particles, your surgeon may conduct an MRI scan or ultrasound test. Ultimately, your surgeon may recommend replacing your hip as a result of the DePuy ASR hip recall.
You should contact the Byrd Law Firm's DePuy ASR recall attorneys at (713) 864-3000 to discuss all of your claims and legal rights if you received one of the defective DePuy hip implants.